Mariana Rodrigues
1 month ago
Furniture Design
armchair
,
armchair style
,
balcony armchair
,
bedroom armchair
,
bergere chairs
,
canapes
,
closet armchair
,
corner chairs
,
design furniture
,
Design Projects
,
Interior Design
,
living room armchair
,
lounge chairs
,
luxury armchair
,
modern armchair
,
rustic armchair
,
slipper chairs
,
wingback chairs
0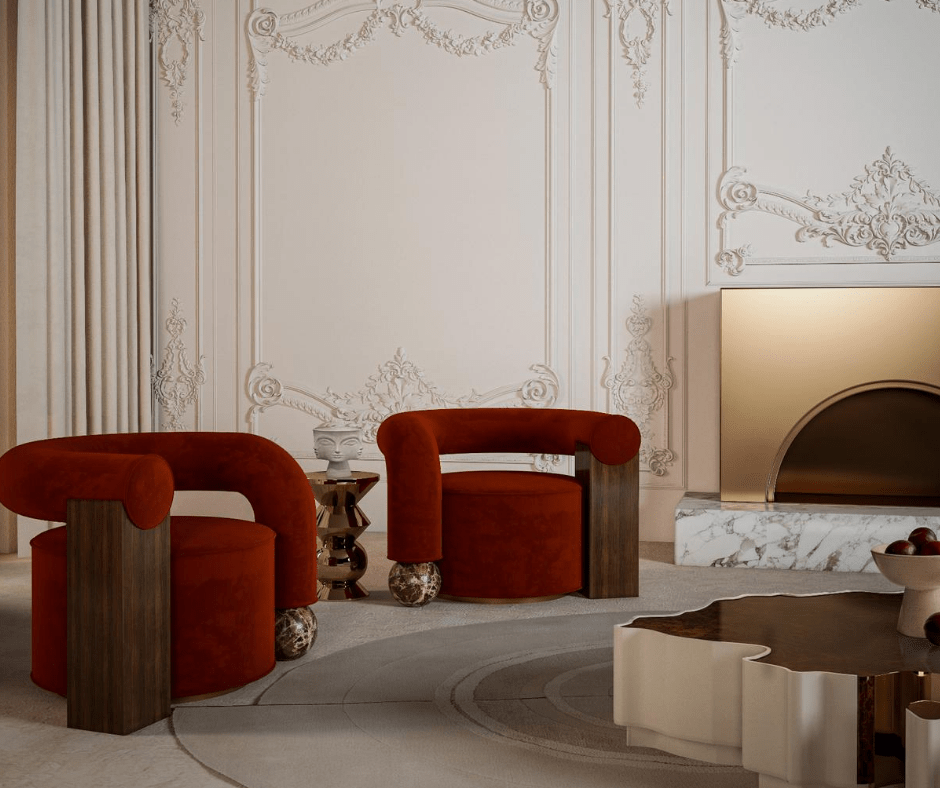 When decorating an environment it's common to choose a key piece to attract all eyes. It can be a sofa, a carpet and mainly an armchair. This because the armchairs can create the atmosphere of the place without leaving aside it's functionality.
A well-chosen armchair is capable of injecting boldness and elegance into any space, and it can be the living room, bedroom, balcony or even the bathroom.
A good tip for choosing the furniture correctly is to be aware of the space where it will be allocated. If it's a very large space, for example, you can choose a big armchair. In smaller spaces, like apartments, it's ideal to choose only one piece with a striking personality to not to give the impression of too much information in the environment.
Therefore, we have separated in this article some types of armchairs that fit in different rooms in the house to inspire you:
In the bedroom, if there is not much space, the corner chair can take on the function of lateral support of the bed for books and small objects. It's even capable of adding visual comfort to the space.
In the closet, the armchair will have a utility purpose because it serves as a support when dressing. But that does not mean that they need to be boring. So bet on comfortable and style models, and make sure it doesn't just become a support for used clothes!
The living room asks for striking pieces so is the perfect place to abuse the scenic chairs. When choosing a lounge chair, you create an invitation that makes your visitors feel free to stay longer in that environment.
In the bathroom, the armchairs will have a more figurative feature, focused on aesthetics, but they can also serve as support while you are getting ready to leave the house. Dare on colors and fabrics and think of materials that will not mold with the presence of moisture.
On balconies, hammocks and wooden armchairs are ideal thanks to the strength and durability of the material. Since it doesn't spoil even when exposed to the sun and rain. And as the balcony environment is conducive to relaxing, using stripped models make the difference.
FINALLY, WHAT'S YOUR OPINION ABOUT ARMCHAIRS? ARE YOU SO IN LOVE AS WE ARE? IF YOU WANT TO KEEP BEING INSPIRED, STAY TUNED TO OUR BLOG SO YOU CAN FIND OUT MORE TRADE SHOW AND DÉCOR IDEAS.
Related posts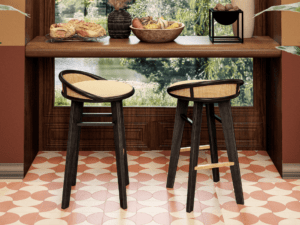 Furniture Design, Interior Designers
bar
,
Bar Chair
,
Bar Chair Ideas
,
Bar Chair Inspo
,
Bar Stool
,
Chair Design
,
Club Chair
,
Design Projects
,
Interior Design
,
Pub Stool
,
Restaurants
,
Swivel Bar Chair
0
Choosing a bar chair is a more than fundamental step in the design of a charming project for your business. This is because the bar chair and all furniture make up the image of your establishment and thus can also serve to attract more customers.
Generally, most customers want to have experiences that motivate them to return to the establishment. When people enter an environment, they want to feel welcomed and with the certainty that they have chosen the best alternative.
This feeling, of course, is also linked to several other aspects, such as good service, competitive prices, and so on.
Bar Chairs contributes on the composing of a considerable portion of the visual communication that you do with the clientele. It is also these pieces that give the consumer comfort to feel good and stay in place.
Certainly, beauty must be taken into account, but you cannot forget the setting and the general organization of the place. Considering factors such as comfort and practicality.
The furniture carries an importance that combines style, functionality and strategy with the environment. Therefore, it's essential to choose carefully, since it can be your biggest differential in relation to competitors.
For this reason, we have selected some bar chairs taking into account their characteristics to help you with the choice of furniture in your establishment and make all the difference in attracting customers.
A very important factor for bar stool is comfort. We can say that this factor can be decisive as to the time that the consumer will stay in the establishment. In other words, the more comfortable the bar chair is, the greater the chances of the customer staying in your business for a long time and consequently the greater the consummation.
The style of pub stool goes far beyond colors and coverings. It must be contained throughout the environment. So, make sure that the layout of the tables and chairs matches not only between each other, but also with the rest of the place: ornaments, facade, painting, design, etc.
Think, above all, about the composition of the project. For example, mixing some furniture materials is an interesting alternative that highlights the style of your bar. Remember that the composition must be in balance to not over do it.
Thinking about functionality when we talk about swivel bar chairs, is the fact that they can offer different applications in terms of usability, changing usage, service dynamics, among other aspects. It's even valid to have a little daring in this regard, to add more value to your business.
For example, chairs with additional supports and compartments designed for utensils can make serving easier. A chair or bench with support for bags can also enrich the experience of those who frequent the environment.
When we talk about practicality, the ideal is to have bar chairs with good mobility. Therefore, bet on bar stools made with lightweight materials to make mobility easier. If moving furniture is not practical, you and your team are likely to spend a lot of time on these basic routine tasks.
FINALLY, WHAT'S YOUR OPINION ABOUT  BAR CHAIR TIPS? ARE YOU SO IN LOVE AS WE ARE? IF YOU WANT TO KEEP BEING INSPIRED, STAY TUNED TO OUR BLOG SO YOU CAN FIND OUT MORE TRADE SHOW AND DÉCOR IDEAS.