The port of Fontvieille in Monaco is home to Riccardo Gaudi's new restaurant which smells wonderfully of the South: Maison Fonfon.
Let yourself be transported to a warm Mediterranean universe.
There you will find George Dining Chair.
Related posts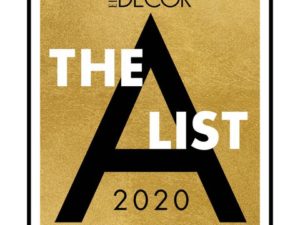 Amy Lau, a A-List Interior Designers By Elle Decor, is an American designer born in Arizona. She graduated from the Sotheby Art Institute in Decorative Art. Soon after, she worked as a design director at Thomas O'brien's Aero. And sometime later she spent 5 years working as a design director at the Lin-Weinberg Gallery located in New York.
Through her professional experience and talent, since 2005, Amy becomes a sought-after speaker for interior design conferences.
In addition to the speakers, Amy also recreated the Miami Design Fair with contemporary furniture suppliers internationally renowned. 
Alessandra Branca is an Italian designer, born in Rome. She created her own brand that is really recognized in the world of interior design. At the moment the Italian designer has offices in Rome, New York and Chicago.
This a A-List Interior Designer work reflects a classic and timeless style decor that has captivated thousands of people around the world for years.
Beata Heuman, is a Swedish-born designer and London resident, who followed an unconventional path to interior design. She studied Italian and Arts in Florence before returning to study literature at Sweden's Lund University.
The Interior design only entered in her life when, while living in London, she received a proposal to work at Nicky Haslam. Where she worked for 9 years and acquired most of her knowledge and developed her talent in the field of interior design.
So, in 2013, Heuman set up her own studio developing unique and fun projects that reflect her personality and her way to see life.
Emma Jane Pilkington is an Australian designer who grew up in Greenwich, Connecticut. At the moment, the designer works at the house where she spent much of her childhood on Long Island, and is a A-List Interior Designers By Elle Decor.
Emma and Cristiana Cuomo, her friend, work on projects together. In wich they create luxury decorative items that can be considered jewelry.
Charlotte Mass, a A-List Interior Designers By Elle Decor, is an American designer who started her business in 1985. Her specialty is in designing private residences and executive suites, but she also develops several projects for retail stores. 
After launching her career on Wall Street, Charlotte has expanded her reach in recent years by signing Flair for Living designs for consumers around the world with collections available under license.
Charlotte also designs fabrics and finishes for Fabricut. Also carpets, essays, and wallpapers for Stark Carpet and porcelain for Pickard. And recently, Charlotte used her 25-year experience decorating haute couture homes to design a collection of furniture and upholstery for the Century Furniture.
FINALLY, WHAT'S YOUR OPINION ABOUT THE A-LIST BY ELLE DECOR? ARE YOU SO IN LOVE AS WE ARE? IF YOU WANT TO KEEP BEING INSPIRED, STAY TUNED TO OUR BLOG SO YOU CAN FIND OUT MORE TRADE SHOW AND DÉCOR IDEAS.