The London-based design and development firm, Echlin, has remodeled an entire London house project in Knightsbridge. Through a project that is a "reinterpretation" of a classic London stables house. With functionalism, flexibility, lots of natural light, and natural materials. Each room follows a "broken plan" layout, in which built-in furniture and level changes help to freely demarcate different areas. The dining table features our George Dining Chair in combination with a planned bench fixed to the wall.
Related posts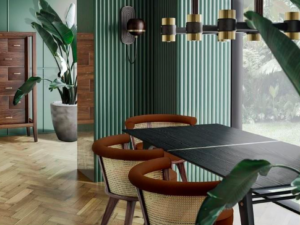 Forest Green has been trending in the last few years and will continue to be big in 2019!
Once considered formal and outdated, the revamp of forest green feels fresh and organic.
According to some prestigious interior designers, forest greens are a great choice for the present year.
The first recorded use of forest green as a color name in English was in 1810. This color is a representation of the average color of the leaves of the trees of a temperate zone deciduous forest. On the other hand, it's also used to represent deciduous forest on maps depicting natural vegetation.
From bottle-green sofas to sage-coloured kitchen cabinets, all shades of green are a key colour in every interior right now. Despite that, this year there is no doubt the forest green took the throne. A lick of forest green can add personality to a tired living space, especially when balanced with brilliant white detailing across the stairs and doorways. 
Here are some ideas of how to incorporate the shade into your spaces immediately.
Shades of green inevitably evoke growth, renewal, and life; and what better message to send in the heart of your home? Be inspired by this  inspiring kitchen in lush shade of forest green.
Green accessories and plants liven up the beautiful natural textures in this living room. Plants are an easy way to embrace a sprinkling of green throughout your home. Take a look at this ambiance by Wood Tailors Club.
If your space is feeling boring, add a statement piece of furniture. This bold green sofa by Wood Tailors Club creates a beautiful vignette with the simple neutral art and accessories.
This Wood Tailors Club's armchair add a sophisticated lux feel to every living set. The unexpected shape, color, and textile elevates the design.
In sum, look for this hue to make a comeback from the '90s as a perfect earthy color to mix with your rustic woods; Use the traditional forest green in a rich upholstery to add a sophisticated layer to your clean-lined modern aesthetic. This shade of green, and others as well, create pretty contrast when used with the warm tones gaining popularity this year
As you can see it is a perfect color to use this year and the combinations are endless.
Go bold with Forest Green!
Take a look at our Green Decor Inspirations pinterest board and let yourself be inspired by a perfect balance between hunter green and forest green interior design.